What happened when
a Marine, a Ranger, and an Artist
took on pile of scrap?
>
First,
they heated, forged and welded hundreds of worn out plow sweeps into the feathers of this 4,000 lb rooster.
Then,
something totally unexpected happened.
Our story unfolds from here…
---
Alfalfa's Market in Boulder, CO
commissioned Robert Bellows
to build Alfie,The Rooster,
in 2011 as a gift of art to their community.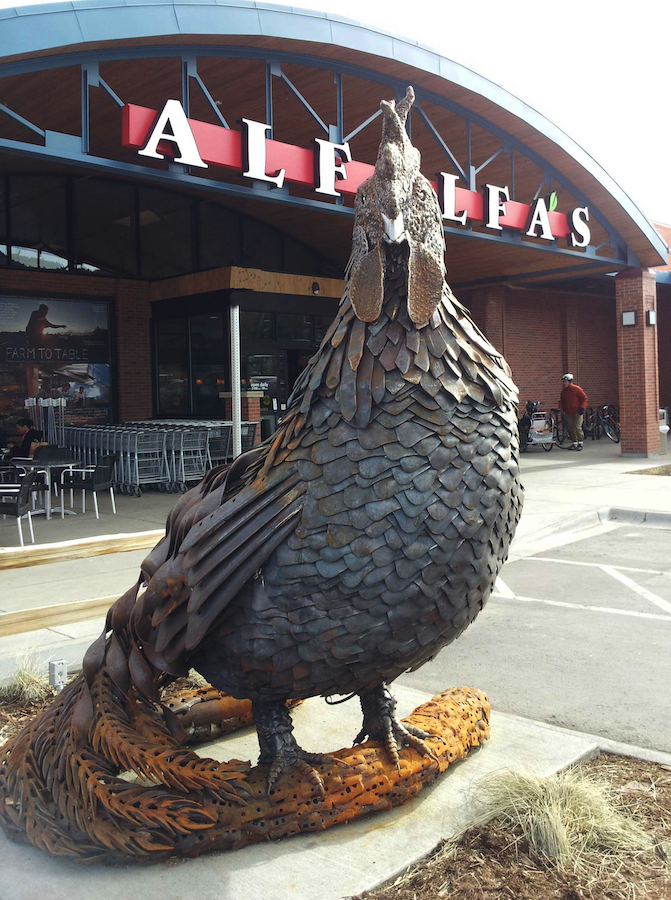 As the Rooster Arose
A Seed Was Sown
I was torch cutting over 1000 plow sweeps into "Rooster feathers" and "tree bark". It was hot work on a hot spring morning in 2011.
War, and the life long challenges that veterans face when they come home was not on my mind. But that all changed when the shadow of a Marine and a Ranger fell across my cutting table.
One was a longtime friend, Brad Gallup USMC, USAF Ret, the other was Danny Moore USA. Brad asked a simple question:
"Hey, could we help you build that Rooster?"
"Sure, get some gloves on…let's go"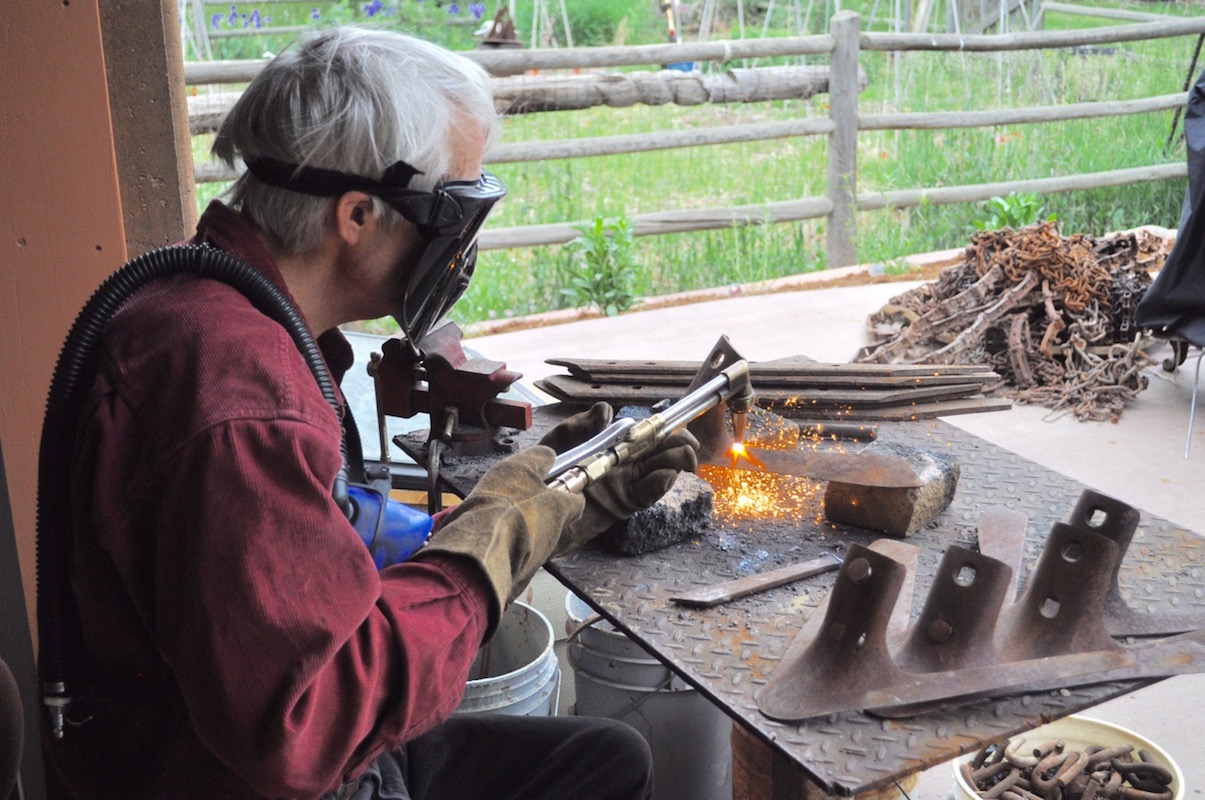 Robert Bellows cutting "feathers" out of plow sweeps in his shop in Longmont, Colorado.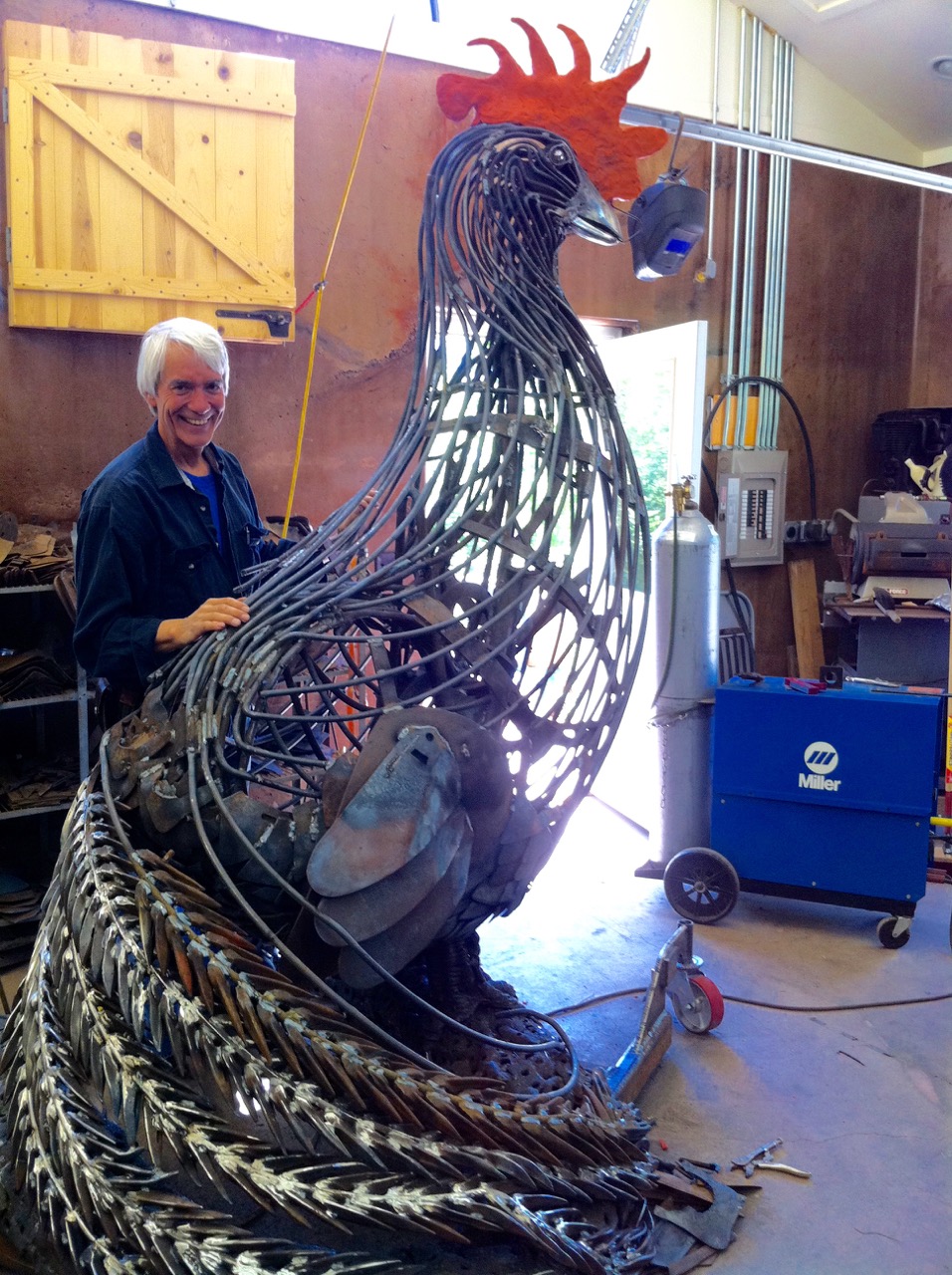 The Rooster was still just a framework that needed a whole lotta hand forged "feathers" when Danny and Brad dropped by.
"You know whats cool about this?
There's no structure. All you said was, come on out.
Let's pound some metal.
Watching the Rooster come together piece by piece…that blew my mind."
~ Danny Moore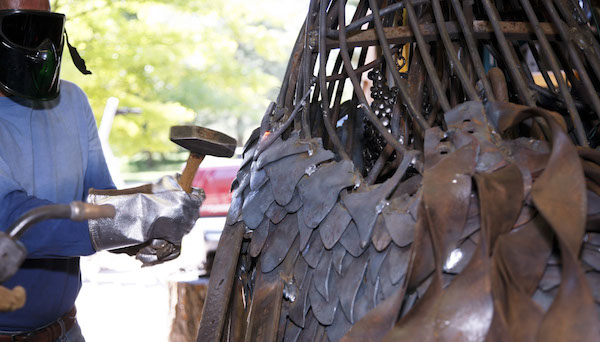 Brad pounding the feathers.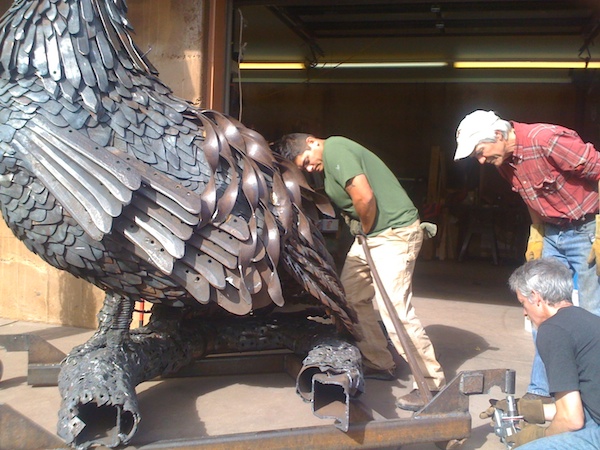 Danny, Brad and Robert rolling out the rooster.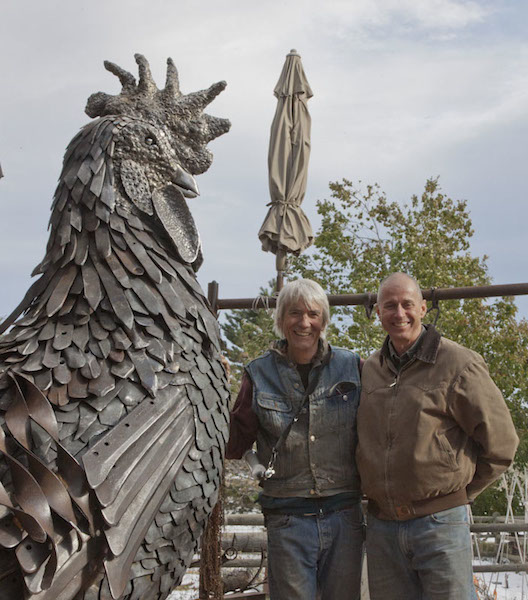 Brad and Robert with rooster.
As The Rooster Arose
A Seed Began To Grow
The moment we put our gloves on we all became artists.
Danny fired up the forge and loaded it with trimmed plow sweeps. Using long tongs, he delivered a steady stream of red hot "feathers" to the rooster sculpture.
With a nod a shrug or a tap we agreed on where to place the red hot feather. I tacked it on with the mig welder. Then, as quickly as possible, Brad and Danny hammered the feather into shape before it cooled.
We became a team. Few words or no words at all were needed to know what came next.


When The Rooster Crowed
A Question Was Posed
Months later we rolled the completed Rooster out into the sun.
It was only then that we realized we had created more than a sculpture. We had come to know each other in a whole new way.
Here's what's interesting:
We never set out to discuss war, combat, veterans issues or anything of the sort. Instead, those subjects flowed in and out of our conversations with grace and ease.
Those conversations and our work together touched Brad and Danny in ways that only they can describe. But, they changed me forever. War and the enduring trauma that that flows in its wake became impossible for me to ignore.
Then Danny asked the question…
What's our next project?
What's our next project?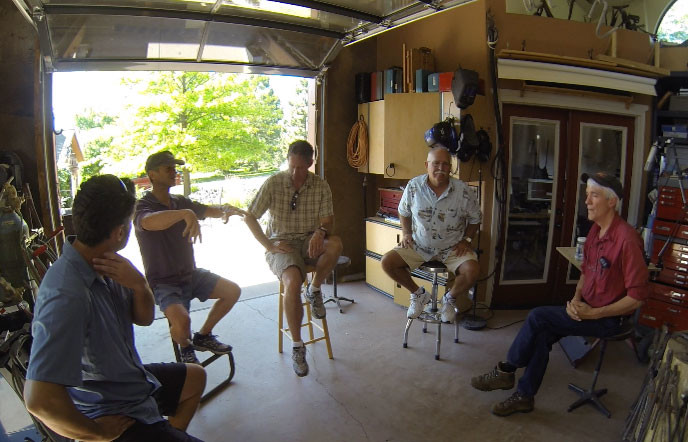 That question just raised more questions.
How could I have been so detached from those who fought wars that I, through the magic of lottery numbers, did not have to fight? How could I not know that once the shooting is done, the real war continues on in the bodies and minds of veterans for the rest of their lives.
Letting these questions in was painful. Feeling the weight of their answers left me in a blank stare. Finally, ideas began to flow.
We got together to talk. "What if our next project was about veterans. Well, really, what if it's about all of us.
What if we built a two sculptures, a Dragon and a Phoenix, as an endeavor to tell the story of the warriors journey home?
What if we invited veterans and civilians to join forces in building these powerful creatures? Could doing this bring us together? Could doing this help us understand and support each other?
Is this a crazy idea?
"Trust yourself on this", says Danny.
"No, it's not crazy", says Brad.
"Get some gloves on, let's go!"