Here's What We Get To Do…
Build a huge Dragon and an even bigger Phoenix
We get to make "scales and feathers" from from raw steel
We get to jump in and make creative decisions
We get to make a lots of mistakes…then discover
Every "mistake" added excitement and meaning

We get to slice up scrap iron with torches, plasma cutters, grinders and chisels.
We get to heat metal up to red hot then pound it into whatever we want it to say
We get to build wings and muscles using scrap bits and all our wits
We get to wonder…how the hell are we gonna do that?
We get to talk, strategize, and try stuff that
Just might work…or at least maybe-shudda worked
We get to weld stuff on backwards and upside down
We get to laugh and feel

We get to build a heart…and fill it with our stories
Maybe, just maybe we get to build two hearts…and fill them both with poetry
We get to call each other artists and friends We get to bring in our buddies
We get to endeavor to tell the story of the
Warrior at War and
The Warrior Come Home

Yes, we could fail in a huge way.
No guarantees here.
But what if we succeed?
We get to thump our chest and say,
Whoa, we did that.
Get some gloves on… Let's go!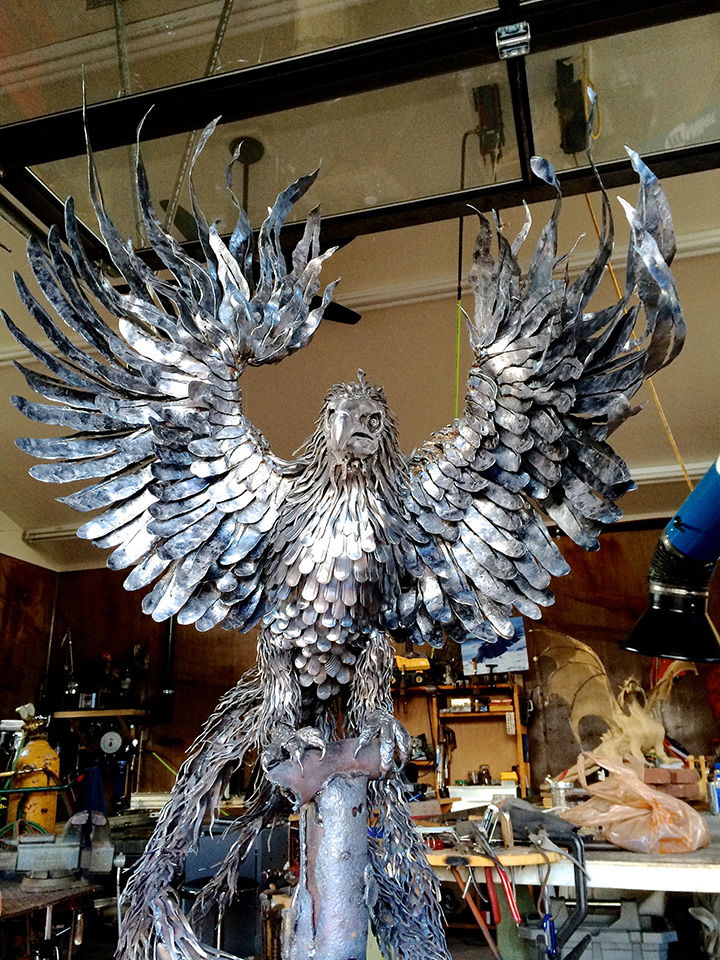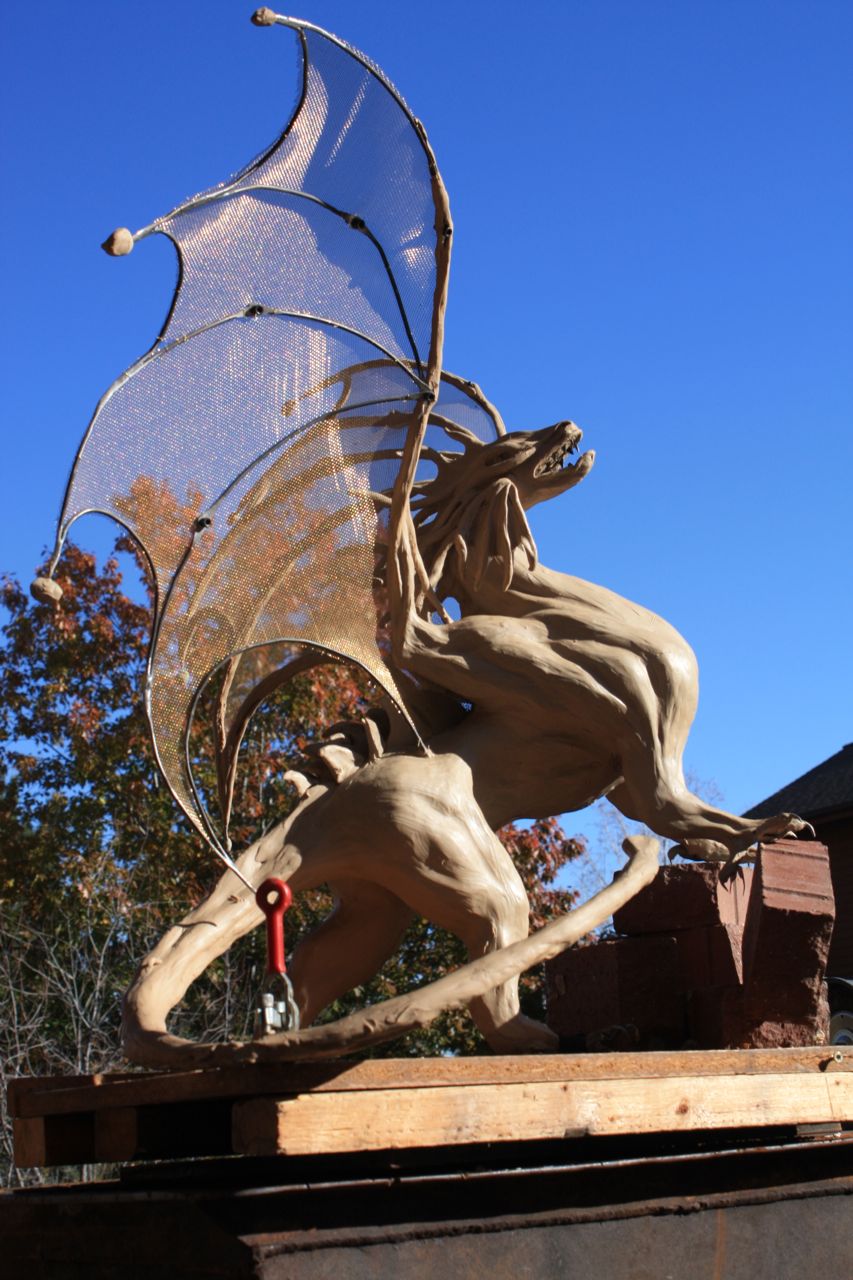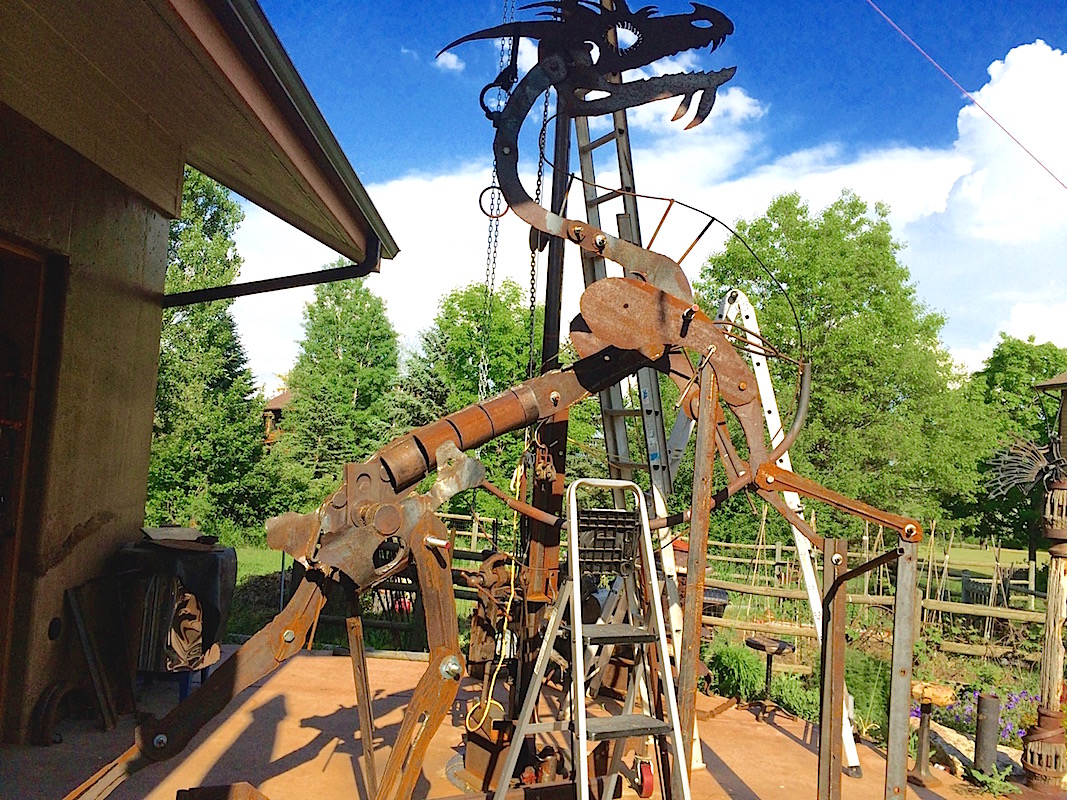 Can I help build the sculptures?
There will be opportunities to join in. If you are interested, please get in touch with us through the contact form below We will let you know when we have openings.
Can I just come watch sometime?
Yes, but please ask for an invitation to visit. To receive and invitation please use the contact form below and place the word Observe in the subject line. We'll find the perfect time for you to stop by.
While we're sculpting, the WSF team needs to focus on the process of art and the important conversations that process brings up. Once we get "on a roll" it is very important to avoid distraction.
Where is the Warrior StoryField going to be?
We don't know yet. For now, our focus is to enjoy the Warrior StoryField as a process that fosters community and stimulates conversation as we imagine and build the Phoenix, the Dragon and the Space In Between. When the sculptures are complete the Warrior StoryField can then become a community gathering place, a veterans art gallery, a safe and sacred grounds for story telling, listening, learning and remembering.
Where will it go? Who will manage it? Who will own it?
For now, these are to remain open questions. Our team is open to listening to your ideas.
Is this a nonprofit?
The Warrior StoryField is now a 501 (c) (3) non-profit organization. Donors can deduct contributions made to the Warrior StoryField under the Internal Revenue Code (IRC) Section 170.
100% of all donations will be used for purchase of steel, scrap iron, welding supplies, safety equipment and other expenses directly involved with the creation of the Warrior StoryField.
Is there a cost to participate?
There is no cost for veterans.
What's the meaning of the Dragon and Phoenix?
As we go deeper and deeper into the process of building these powerful creatures we have come to know that their meaning lies totally in the eyes of the beholder. The art, the eternal stare between the Dragon and Phoenix will draw out only what is uniquely present within each person. This meaning seems to change with every viewing. In this way, the power of the Warrior StoryField to evoke emotion will be an ongoing discovery. What does the Dragon and the Phoenix represent?
Learn more here.
When will the Warrior StoryField be done?
We are working in soul time not toward deadlines. Our commitment is to savor the conversations, the friendships, the wonderings, the goof-ups , and laughter every step along way. We are on an adventure. It will take, however long it takes. However, the reward of completing each phase of the Dragon is so exciting the whole team gets anxious to jump right into the next phase.
The skeleton of the Dragon is almost finished. Next up is shaping the outline of Dragon's hips and head. Whoa, that's got us all jumping up and down to get started. (Photos and videos of this process coming soon).
How can I help?
We are a grass roots team hoping to grow a big dream. As we grow there will be many ways to help. Here's what we need right now:
Your Input
Your excitement, your encouragement and even your critiques of this dream.
Donations to help with:
Welding shop Safety Gear: Masks, face shields, gloves, ear plugs etc
Consumables: Welding rod and wire, gases, grinding discs, cutting tips, etc
Website design, development and maintenance.
Cost of creating a formal nonprofit organization
Videographers, Writers and Story Tellers
Do you have a communication skill and a desire to help us tell this story? Let us know below.
Scrap Metal
Do you know a farmer or rancher with a huge scrap pile? We will need hundreds of used farm implements like these pictured below: